You've all requested it a lot, which I find funny because I don't believe it has even happened more than once yet. But haters will hate regardless and obviously some of you got yourselves used, abused and tossed to the side by Cracker Jackson and have been eager for the opportunity to bitch about him. Or maybe you'll be able to give him another chance since he
did
change his stage name to something a lot more respectable to the ladies. Welcome the new DJ duo...
Fishdicks and Hardersauce.
If anyone checked the night out, you loved it and it takes off, then awesome. The more popular it becomes... the more popular the dj's get... the more they cheat on their girlfriends... the more material I will have for my site in the future. It's a beautiful cycle. And who knows, maybe the night really will be more successful than the last gig a couple of them got pitched from. Or was that also Firestone's fault?
What do I have to say about it? It seems kinda...generic. Same uncreative and typical club night neon flyer.
Same typical shitty electro/indie/techno/hip hop whatever scene that's already been beat like a dead fucking horse in this city. And everywhere else.
And a couple of nice guys that tend to a popular dive bar named after grilled meat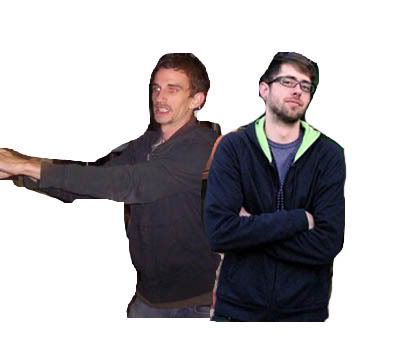 who were inserted into the local automatic DJ replica machine on Robinson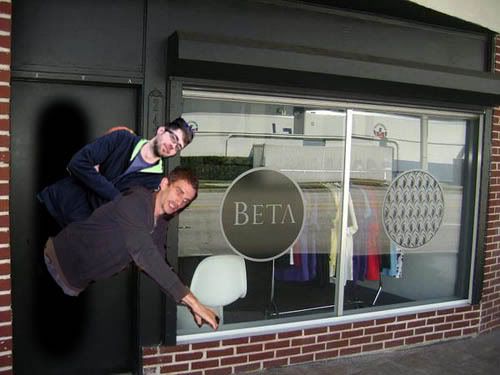 BEEP BEEP WURRR BEEP BEEP
and spit out looking like this...
........
Yes, I blurred out Tyson's blood fingers in an effort to save his life. No one would ever let him display their gang signs with that sweatshirt on.
I haven't been and I might actually have faith in what these guys will do as a whole. They seem to have a good sense of humor between the group of them. But Eh. Call it more original. Call them more talented DJ's. You've got Kittybat? Great. I don't fucking care anymore. It's getting to the point that I really only care about how strong the drinks are in these places. Screw the music and the people, just get me wasted enough to barf all over your shiny shoes and turntables and head home. And feel free to correct me if I am wrong, but I now firmly believe that ANYONE with the right equipment can DJ in this city. Has Brad from the Summerbirds started yet? Because I can really see that next. Or maybe The Ladies of Alchemy as some giant tacky 80's dj powersquad with Michael and Yardley spinning in the middle. Hopefully they will all be in Brooklyn before it happens.