THANK YOU ALL FOR VOTING!!
That's complete sarcasm. I am such an idiot for not realizing how fucking long this was going to take me to tally up and finish. Once I saw it hitting well over 100 votes my lazy ass wanted nothing to do with this contest anymore and honestly contemplated not giving you any of the results and just shutting the blog down.
But here I am. With the winners...losers. Whatever. And remember the following was all contributed by the readers. I by no means gave the official stamp of approval to anything below. Except maybe the places where Blood on the Dancefloor were mentioned...
Hit The Defammy's Theme Music!!
That works.
Now for the results. Commentary provided by YOU, the readers.
WORST BAR FOR DRINK SPECIALS

1st Place
THE SOCIAL
by far
"The Social - If the non-local band you wanted to see had the good sense to stay away from Hard Rock and HOB, they probably ended up here. They don't rape you on drinks quite as badly as the other two, but please, don't insult my intelligence. $4.00 for a Newcastle is not a Drink Special."
"The Social. They aren't "special" if they rape you in the ass for some PBR."
2nd Place
PEACOCK ROOM
"peacock does suck, how can you charge 6 plus for beers when your entire club is gross as fuck and you just dim the lights so people can't tell your shit sucks!! Seriously who wants to party with really old people any ways!! horrible place.... with no drink specials to be heard of... and shit half the time my beer is warm as fuck."
"Peacock who could stand the music to even find out about the drink specials"
3rd Place
BACKBOOTH
"Backbooth. Seriously. They say "free beer" but it's skunk as shit. Then again, beggars can't be choosers."
"Backbooth by a long shot. Unless it's a keg of swill being given away to get people in the door to listen to shitty DJ's, there are NO drink specials. Ever. They win"
WORST EXCUSE FOR A LOCAL MUSIC ACT

1st Place
BLOOD ON THE BIG FUCKING SURPRISE DANCEFLOOR
"Blood On The Dance Floor. I am going to mash down buttons so furiously I could be confused for a World of Warcraft gamer. I have not seen shit this bad since I pushed a porto-potty over with a drunk dad in it. I had the pleasure of working a cd release show for them this year. As a bouncer, the only thing I wanted to bounce was myself into the afterlife. Penis cakes. Penis cakes and balloons. 15 year old boys making out with each other like the meaning of life was hidden in their throats. Have you seen the cd cover? It is so outlandishly and overzealously gay that George Michael wouldn't suck Dahvie's dick at a Boy George concert, let alone a public bathroom. If my parents opened my car door and saw this peacock-haired moptop fuckup holding a stuffed heart saying "Lets Start A Riot!", they would take a belt to my back so fast I would call myself Toby. My ears are blowing steam and I look like I just swallowed a capfull of Dave's Insanity Sauce just reminiscing about this show. I must've been Attila The Hun in my past existence because God rained down sheets of piss on my life that dreaded evening. The only unlucky souls who can attest to my despair are the ones who have had to endure the misery and desolation of working a Blood On The Dance Floor show. I would gladly trade in a month's pay if I could somehow turn the sands of time and never been in the position I was in that abysmal day. Am I the only one that would trade Dahvie for Caylee Anthony? I think not. Blood On The Dance Floor. . .what a dumptruck of shit.
2nd Place
CORI YARKIN AND HER ROCKSTAR KARAOKE BAND
3rd Place
KILL TO WIN
(Oh yes, they beat Kinetica)
"Kill to Win- i honestly have never even paid attention to them. just looking at them annoys me. and their night sucks"
Honorable Mentions
Kinetica
Gargamel
"Gargamel, for reminding us that juvenile 90's rap metal, bald tribal tattooed guys with Alice In Chains goatees, and shiny shirts are still all the rage in the 21st century."
In Passing
"In Passing- not that those assholes need anymore attention. They flirt with as many girls as they can at the bar to only to plug their shitty ass music."
"In Passing. Other than the fact that I can't stand their music, there's a nice personal touch here. One of the guys with the wacky haircuts, stole my beer and claimed it was his for about an hour. In Passing steals your beer when you're not looking."
"In Passing- Homo queers passing themselves off as Christian born again vaginas."
WORST CLUB/BAR IN ORLANDO

1st Place
MAKOS
"Makos, I went there once because I could drink for free and at one point during the night all of these alarms started going off and all of a sudden male members of the staff jumped up on what appeared to be a stage and ripped off their shirts (if they were wearing them) and did a choreographed dance and lip-synch routine to Limp Bizkit's "Rollin'". I now know what white people hell is."
2nd Place
TABU
"tabu = stabbings"
3rd Place tie
LIQUID CELLAR AND POUNDERS/OCTAGON
No one had anything witty to say about either. I imagine that is because an explanation is definitely not necessary.
WORST WEEKLY DANCE NIGHT
There isn't even a need for a second or third.

1st place went to
CARNIVAL
for the kill
"carnival - who the fuck do they think they are charging so damn much to get into a sweat filled cluster fuck of a bar to pay even more ridiculous prices for drinks and be bombarded by every night time photographer in orlando over what could only be described as the worst of the worst sounding hipster techno everrrrrrrrrrr."
"I'll say Carnival, but only because I hate trendy homosexual party promoters. And just to be PC I hate heterosexual party promoters too."
"They all suck, but I'd have to go with Carnival - I'm allergic to 18 year old bar sluts."
"Carnival. I've only been there once. But that one time was enough for me."
"CARNIVAL CARNIVAL CARNIVAL A MILLION TIMES OVER"
Eh what the hell.
2nd went to
HANDS UP
"Hands up... I think that nights name alone answered the question. If you want to re live your middle school days, follow the little flying hands there and take the time warp back to hang out with kids in that age range."
"Hands up recently got canceled or "moved" so I am going to go with Hands Up for not holding down their night."
WORST WEEKLY CLUB PROMOTER
The best part about this win is that it went to someone (by a landslide) who I used as an example that isn't even an actual promoter.

1st place
HUGO
"Hugo isn't a club promoter..that's a joke. that dude is a straight up waste of time and space."
"Hugo because the pressure of being a club kid causes nervous breakdowns for this young man."
"Hugos a promoter? Let's pick that one. And when did asians start talking with valley girl accents?"
2nd Place
MC RAD
"MC Rad, matt doesn't even show up to half of his own events, and yet they still pay him."
"UGH!!!! All of them! I guess MC RAD"
"MC Rad-tarded"
3rd Place
FRITZ
"Fritz because his myspace comments are annoying as fuck."
Honorable Mention :
"
Mike McRaney
, for single handedly running the music scene in this town into the ground through threats and openly cheating acts out of their hard earned money."
WORST CLUB PHOTOGRAPHER

1st Place
ERIK'S PHOTOBOOTH
"most unflattering pictures for girls. Period."
"That Erik douche"
"erik the girlbeater"
"Eriks Photobooth x1000000"
"Erik's Photobooth. See also: Another Johnny-come-lately douche who bought a DSLR, made a myspace page, learned how to oversaturate everyone's faces in photoshop so they don't look all pasty and acne'd, and is now considered a "professional" photographer.
Fuck all that book learnin' and experience required of real photographers."
2nd Place
THE GUESTLIST
"The Guestlist. These guys will stalk you and hunt you down until they slam one of their grubby little cards in your hand. Then they'll slither away to grab another photo. I once walked away with over 7 of their cards in a single evening. Constantly, I would say "No no, I've already gotten your card...it's perfectly fine...no...I don't need another." They remind me very much of a japanese beuracrat. Bow, exchange business cards, move on to the next, bow, exchange business cards. But at least the japanese have a beautiful sense of tradition with them...in fact, The Gueslist should hire japanese men to take peoples photos and hand out business cards. I would be more impressed by this."
3rd Place
J. CHRIS CALLAHAN
and
KCOLL DESIGNS
for the tie
"J. Chris Callahan, because honestly, the last thing I've seen him photograph is himself; actually, it can't be him, because half the time he's giving his camera to some random drunk college kid to take a picture of him and some other fag-hag."
"KColl. Why he thinks making people look sweaty, pale and diseased with AIDS is attractive... I dont know."
Honorable Mention
"Brian Champion Photography"
WORST LOCAL DJ

1st place to
SAM
(and his mixtapes)
I can't do an actual second or third for this, because really I don't feel like counting them up. You all rattled off every single fucking dj in Orlando on here at LEAST three or four times each. Here's the list in no particular order…
Rock n Roll Troll
Hall Call
Charlemange of Kill to Win (Jon Swan?)
Kittybat


"
"Anyone who's NOT Kittybat, Y-NOT, Secret Weapon, Adam S, Ge3on, etc. They all play the same garbage, and couldn't fit in a song that wasn't a 4/4 130-140bpm techno beat if their lives depended on it.""
Docta Dawe
Diddles
DJ Koolbreeze
Miss Fit
Deville
Adrian Hypnotic whatever
Lloyd at Metal Night
Pauly Crush
Perry
Young Buck
Mott
Kill to Win
Zach "Furoche" Fortune\
Justin James
Some Itune DJ at Matador
Bubba
"Scott from I-Bar, Midnight Ass, etc.

Besides the fact that he does NOTHING AT ALL that an iPod with a playlist couldn't accomplish, the host of the funk/soul extravaganza that is Grits N Gravy has never heard of The Meters, or a James Brown song besides "I Feel Good.
""
Josh harder Sauce Cracker Jackson and Tyson
The rest of the votes were just basically people who wanted you all to either quit dj'ing or die.
WORST LOCAL BLOG

1st Place. I'm not naming the winner of this, because I vowed never to acknowledge its shitty existence or failure. You all voted it plenty, so I'm sure you know.
2nd Place
ORANGE COUNTY CONCEPTS
"orange county concepts and that chick that promotes for them, sam. i have never met a more annoying/abrasive person in my life. if she takes another picture with an occ card in her flat chest, or making out with a girl, i think i'm going to blow my brains out onto the lawn."
3rd
GLITTER AND GOLD
"Glitter and Gold. Beyond overrated. The fact is that the site is only getting as much hype as it is because Pauly is fronting the ability to plaster half of their promo flyers with the logo and link to Anita's blog. I'd be interested if it were able to stand on it's own without the helping hand of Pauly Crush."
"Glitter & Gold, boring content and all those new hot songs she posts are sometimes weeks old."
"Glitter And Gold, which is now run by another soon-to-be "DJ" who's musical credentials include leafing through the American Apparel catalog, and listening to one of those Scion Mix comps once or twice."
WORST MYSPACE PROFILE

1st Place
KINETICA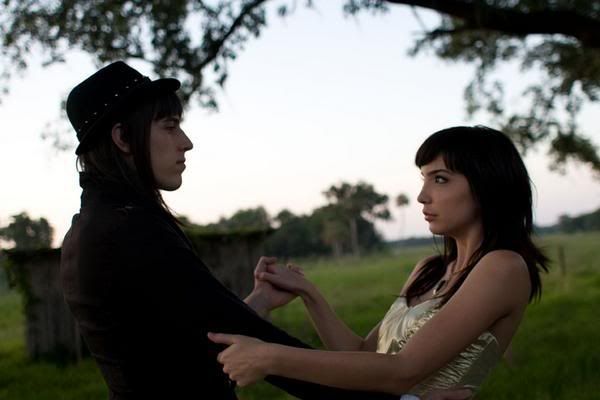 "God Kinetica. While reading their "about me," I wanted to shoot my face in. Their music? I wanted to hang myself. I think defame labeled them perfectly as the most conceited, self absorbed, borderline narcissistic dullards that ever walked the streets of downtown Orlando."
2nd Place
RIP ROCKIN RICHEY
"rockin richey, or that dude next to the fireplace.."
No time for third. Only
Honorable Mentions:
Kill to Win.
Remember when japanese children had seizures watching pokemon? Kill to Wins myspace profile will give your children seizures. And they know it too.
"Kill To Win, for being banned in 48 countries for inducing seizures. "
http://www.myspace.com/defenzmechanizm

http://profile.myspace.com/index.cfm?fuseaction=user.viewprofile&friendid=96495164

Blake Anger and Jamesson
WORST MYSPACE MODEL

1st place MANDY MURPHY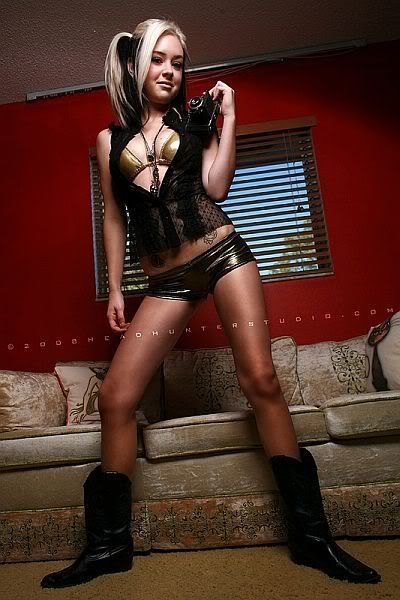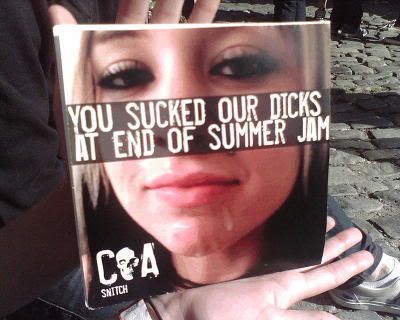 "Mandy "cum all over my face" Murphy"
"Miss Mandy Murphy. If only for that photo where she MS Painted numerous "media" accolades over her stomach. Can we have a "Most Self-Absorbed/delusional" category?"
2nd Place
DOWNTOWN JEWLIE PURPLE
"jewlie. even though she moved. she still sucks"
3rd
ALL OF THEM
WORST DRESSED MALE

1st place
MICHAEL
from Alchemy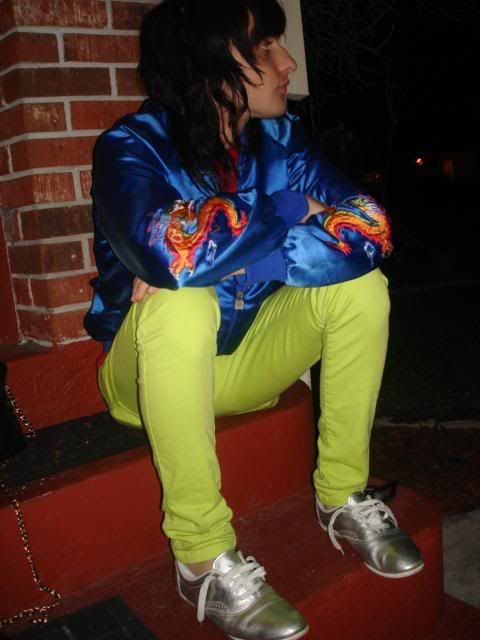 2nd Place
YARDLEY
"Yardley for the win , Michael, or Seth Beach. All dress fucking retarded"
"Yardley and Docta Dawe dress about the same. Both look like a rainbow sneezed on them in the morning and they decided not to wash it off. I'm going to go big on this and say SupaJeff at Backbooth. Time and time again do I think he only wears the same hat and the same "I learned from Lesbians" shirt. I know there's a group of them...but I believe he only owns these shirts. Superjeff or Elvis. I can't stand the Rockabilly look. And now, after the Yabba Dabba Doo comments...I think he's also dressing like Fred Flintstone. Oh! And maybe I can find him out there...but there's this gay black guy who dances in clubs by himself all the time and wears a skin tight Batman Beyond shirt and black leather pants. That guy!"
3rd Place
DOCTA DAWE
Sorry Dawe, no one went into detail…
WORST DRESSED FEMALE

1st Place
KRISTIN
from Alchemy (sorry girl, you killed the competition)
"ahahahhahah KRISTEN"
"Kristin Elizabeth Jones (make sure you spell it right) and don't forget for all your vintage needs go to Alchemy or Etoile boutique....If You're Nasty Vintage...stand up!"
"Hands down... Kristen!"
"Kristen from alchemy. No one wants to see that ass in gold tights"
"Kristen - how many pairs of those gold American Apparel leggings and jackets that look like they were stolen from the Disco Pirates Of The Caribean can you own?"
The rest of the votes were just randoms: Lindsay love and her ugly tube dresses, Falon, The Polka Dots, Some big girl in moo moo's and leg warmer sock things…
WORST FASHION ACCESSORY/CLOTHING CHOICE

1st Place
KANYE WEST SHUTTER SUNGLASSES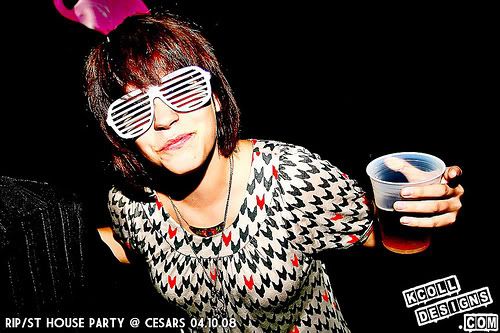 Other randoms included (cut and pasted from the votees):
Bandanas
scarves in florida. its fuckin 100 degrees.
glasses with only frames.. no glass
"baseball caps with gold stickers left on. My vote! Makes no sense."
Those weird elastic headbands that girls wear around their foreheads like hippies
sidekicks and iphones.
90's dayglo clothing
stupid fucking t-shirts with wolves and mystical shit on them.
Anything 80's...They were over 2 decades ago
Dresses that show off your vagina.
Special colorway sneakers and the entire "culture" that surrounds them. What's cooler than paying $100 for a pair of ugly, sweatshop mass produced Nikes? Paying $400 for the same pair in neon yellow crocodile patent leather with plaid lining that they only made 3 billion of.
head to toe american apparel
Gay male best friend
Supras, new age moon boots for hipsters
Volcom, Hurley, and all other branded gear.
Crocs with the add ons.....
eighties sweaters
racoon stripe extensions a la dahvie
NEON SHIRTS WITH LARGE PRINT!
The keffiyeh. If I encounter one more person who thinks it's cool to wear and that it's just a "middle eastern scarf" I will knock their fucking teeth in.
FUCKING WEARING FLIPFLOPS OUT TO A BAR
Fixed Gear Bikes.
galvanized headbands/hats
Sweat bands!
feathers tied into braided hair
flat bill caps
the booze you're clutching like a life-line in a sea of people that hate you
"urban" wear on extreamly white people.
grandma clothes
Jen Waylen. I wouldn't even touch her with your dick.
?

WORST PERSON TO RUN INTO IN DOWNTOWN ORLANDO
1st place
WILL
"WILL!!!!!!!!"
"Will!!! FOR SURE"
"SHWILL!"
"OMG fucking will!!!!!
"ANNOYING WILL. Time and time again, I've thought about getting my hands on riddelin and depositing it in his drink. Once, I held him by the throat and told him to quiet down. He wouldn't stop screaming and doing impersonations! The man is a living breathing tv set, but you can never stop the channels from changing. "
2nd Place
KELLIN
"Kellin by far"
"Kellin. Definitely."
"Yes. Kellin"
"Kellin for sure, jesus."
"Kellin, just because he used to swordfight with his brother when they were in middle school."
3rd Place
THE POLKA DOTS
"The polkadots will get you and try to touch your willy."
WORST HAIR: MALE

1st Place
DAHVEY FROM BOTDF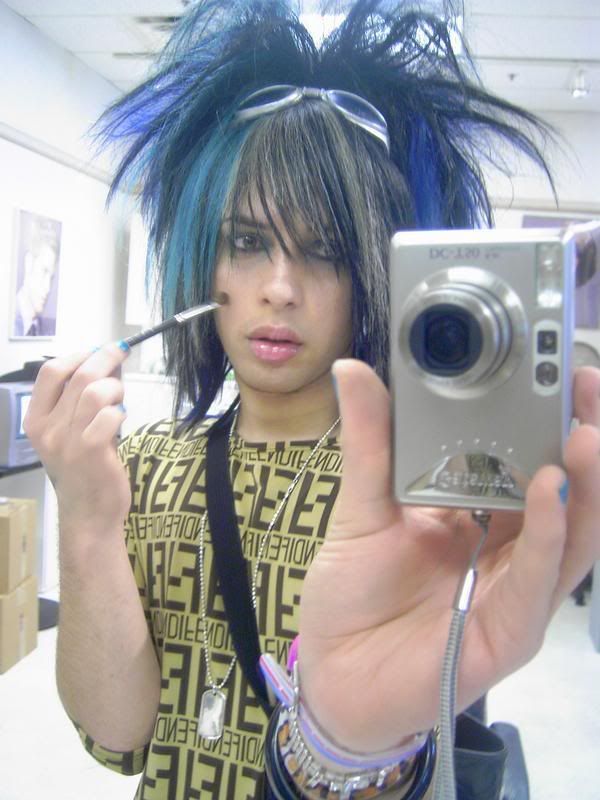 "Dahvey's "Do It Himself" extensions"
"Dahvey. If that's even actually hair..."
"Dahvey - though I still want proof it's male"
"Dahvie. Seriously? Just spell it Davie, or Davey."
2nd
KONRAD FROM KINETICA
"konrad by far. ive never seen anything like it."
"holy shit, konrad and his elf friend"
3rd
MICHAEL' S NEW HITLER HAIR
"michaels hair for sure. who the fuck does that kid think he is?"
"HAHA, Michael's. I preferred the long do."
WORST HAIR: FEMALE

1st place
KRISTIN POODLEHEAD JONES
(again for the kill)
"Kristen's hair is atrocious."
"Kristin POODLEHEAD! Hands down I can't believe that girl is an actual hairdresser"
"Kristin's 52 year old fat trailer trash fresh out of the curlers mom hair"
"Alchemy's Kristen. For someone who works at a trendy hair salon she has trashy bleach blond hair."
2nd Place
HOLLY'S NEW HAIRCUT
"hollys shaved britney spears head"
"Holly and her new dike do"
"Holly's no hair. Guess the extensions were too heavy for her head"
3rd Place
FALON
"Fallon. It's just a disgusting mess of dead fuzz stuck to her scalp."
"Falon or anyone at Alchemy. I'd never pay dirty sluts with the worst hair in the city to touch me"
WORST FLAMEY FAGGIEST HOMO QUEER

1st Place
ADRIANNNNNNNN
2nd Place
Dahvey
(who supposedly is not even gay)
3rd Place
Hugo, J. Chris Callahan? Tyson? Roger from Matador?

You're all such haters…
WORST LOCAL ACTIVIST GROUP
Surprise Surprise

1st Place
SDS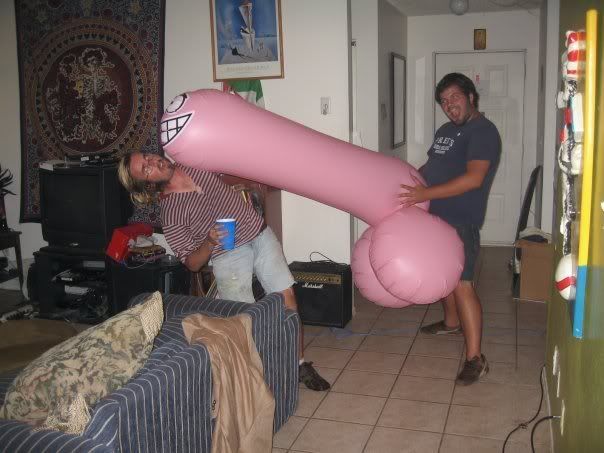 "The SDS. Get over yourselves or move to Berkeley, I mean everyone is for democracy but pushing your self serving agenda on me isn't democratic, it's facist. You all are closer to communists than you realize, but once you join the real world or your parent's cut off the money flow you'll realize exactly how misguided your views are."
"Students for a Democratic Society "Seriously guys, let's just stop all this fighting, get together at the House on Rouse and smoke a bowl together! C'mon everyone, peace, harmony, and illegal narcotics for all!""
"Suckers for a Democratic Shitstorm"
"Matt Devliger"
2nd Place
ANITA'S DEFENSE SQUAD
"Insert A team quote here from the comments section awhile ago. Anita Defense Squad."
"All those people who defend Anita online, or: The Crush deejays through their continued promotion of the desecration of musical culture."
"anita is a moron"
3rd Place

"The Coalition of Nazi Abortionists in support of Makos......(it could happen)"
WORST LOCAL CELEBRITY
Ugh I really didn't care or feel like counting this one.
It looked like the majority ruled on these two guys

1st Place MIKE BUSEY AND CHRIS KIRKPATRICK
WORST CLUB TO ENTER AS A FEMALE


1st Place
TABU
2nd Place
MAKOS
3rd Place
ELEMENT
WORST FAILED CLUB NIGHT

1st Place
VOYAGE'S PEANUT BUTTER FRIDAYS
2nd Place
FIRESTONE'S BLACKOUT
"Blackout, for "triumphantly" trying to bring back the OLD Orlando electronic scene. Skinnys, Alpha Bar, and Thee Groto went out of business for a reason. It's not 1997 anymore, and no one wears JNCOs except for the 20 people in town that attended Blackout."
3rd Place
BACKBOOTH'S RUNWAY
WORST MALE BARTENDER

1st Place
MARK (old dude) AT SUITE B
"Mark at Suite B. You've already heard my rants on this man and his horrible ability to bartend...or not do drugs... He looks like Anthony Bourdains retarded brother. And I think he's only 30-35. Bourdain is 51 and looks better than Mark does."
2nd Place
ANYONE AT SUITE B

3rd Place goes to a few ties
BRAD AT BBQ/I SPY
"Brad at BBQ, moves so slow he actually gets younger when he works."
"Slowest: Brad Register, sorry."
HENRY AT BBQ BAR
"Can't think of one.....it used to be henry at bbq bar when he wouldn't serve me drinks ...I got grounded"
"Henry from BBQ. Weakest drinks ever."
"henry - nice dude that sometimes gives me a free drink here and there but damn if he doesnt have the weakest pours ever"

SUPA JEFF FROM BACKBOOTH
Lot's of votes. No legitimate reasons.

JOSH CALL BACKBOOTH
"Josh Call. "The Straight-Edge Bartender". He makes drinks WAY too strong because, hmm, I don't know, could it be because he's never actually consumed anything that he's making for his costumers?!"
Note from Defame: Don't you EVER complain about a strong drink again.
WORST FEMALE BARTENDER

1st Place
"That Bitch at BBQ bar"
A Bunch of you voted this way. No one seems to know her name. I find it interesting there were so many votes for bartenders at a place like BBQ. It's not exactly a hospitality driven friendly bar. Anything that could be said about the bartenders could easily be said about the patrons they are serving.
2nd Place
SHELLY AT BACKBOOTH
"That bitch at the backbar at backbooth with the tats"
"That one girl at Back Booth that tries to act creepy but fails miserably."
"Girl at backbooth with leopard tattoos, not AMBER"
3rd Place
AMBER AT BACKBOOTH
And lastly…

ADD YOUR OWN DEFAMMY!
worst/best place to catch an std after getting fucked in the bathroom - bbq
i wanted to write something about a specific guy who thinks with his dick not with his head, but then i realized that classifies as most of orlando. so its not to specific but yah.
Worst Handle used to Comment on Defame: Anonymous.
Biggest reason to believe in misanthropy Worst fixed gear kid as well You kids have google...you look it up!
Keri Smith - Worst Fixed Gear Kid/Worst Pretend Crust Punk Who Lives Off Of Parent's Income/Worst Myspace Friend Whore/Worst Fake DJ
Worst Camera Whore: anyone in Orlando who becomes friends with the photographers just to get their picture snapped.
Worst person to be ran out of FL. -Delmar
Worst all of the above: Furoche.
Worst "Where are they now" Club Promoter Jen-do She was ALL OVER THE PLACE during the "reign" of Pauly Crush at SaturdayThursday. But shortly after the break between Firestone and the old crew, Jen seemingly disappeared. She showed up a few times more at CRUSH but after a while we never really saw her again. Could someone enlighten us on the girls where abouts before an Amber Allert needs to be issued. Because I mean, she was really what 17 when S/T was at it's peak? Nothing like fake ID's and low moral of club DJ's who hire minors.
worst inevitably-soon-to-die trend that went way overboard for no good reason- fixed gear bikes. fuck 'em!
This Place Sucks Award: Orlando
Worst Bathroom: Bar B Q bar's. Any of them.
Worst place to eat after getting shit housed at those lame clubs: PITAPIT, not because the food sucks because its generally pretty decent, but because the fucking line gets so ridiculous sometimes and drunks still have the club mentality and act like theyre still at wherever they came from (taboo? i dont know where those yuppies go) looking at you like you might be interested in their silk collared shirt and shiny wristwatch. at that point in the night fucking seems foreign in the sense that whenever i do get home and im fucking someone who might possibly be half as worthless, the silky shirt shiny watch pops in my brain and i vomit all over my one night stand who i thought id end up dating and be in love forever with but it turns out hes not into vomiting. yeah, bummer right?
Jen Whalen is a skanky skank
Thoughts, in no particular order: 1) Fuck Ricky at Dragon Room. The guy's a scumbag and has no idea what the hell he's doing. If he's not too busy trying to fuck his new promo girls/shot girls, he's busy trying to see how much of the local wakeboarders' cocks he can swallow. 2) Hipsters. You already covered this, but it needs reiterating. Fuck them. 3) When I worked downtown doing street-team shit, there was all sorts of hillarity. As I mentioned earlier, one of the highlights was watching that guy who used to be at Dragon Room... Jeff? Jack? Anyway, the guy was one of the two out front of the club, and on the regular, he's smack the shit out of someone, make someone feel like a complete asshole, or stand there and make a fratboy with a shitty fake ID look like the crap he is in front of his 16 year old roofie-victim who he was getting wasted with daddy's credit card. 4) What's Hot. They're lame. 5) Fuck the pedal-cabs. It's like Orlando's answer to bike messengers, except with more creepy old men.
Worst idea ever- Club nights. All of them. And Club Photographers.
Worst Downtown Pizza Place: Gino's. It is absolutely not acceptable to raise your prices just because the sun goes down. $5 for a slice of cheese pizza? Get fucking bent.
Evan ("estrange") wins the nomination for the most embarrassing person to be seen with in person and in photos.
Worst community idea gone bad: Critical Mass. Hey awesome, let's raise awareness about bike riders and bike safety in Orlando, let's all get together once a month and ride. That's cool, but then you get the scene kids into it, that have to kick cars, spit on cars, act like assholes because they're on a bike or make it a total fashion scene, fuck you.
worst local cam whore=renee worst local whore of orlando=amanda gibbons
"Antique Row" along North Orange by Lake Ivanhoe. How come everything is closed by sundown except White Wolf and Savoy? I've still never been in Rock n' Roll Heaven cause they are never open!
Worst Camskank Falon and Renee. Falon because she is the last person on earth I'd want to see naked.
Worst bar for underage Highschool drunken teen boppers: Library, Scoops, Liquid Cellar.
Biggest loser OR worst guy to date, Erik form Erik's photo booth
Worst place to meet girls? BBq Bar. I think the ratio of men to women there is 3:1.
I'm not creative enough, thats why I read you defame.
doug woods
Art Shows are a raping ground for site content.
Ugliest and Poorest and Greasiest and Most Likely to be a Pedophile and Pretend to Read Books to Look Cool and Steal WiFi From a Car Outside of Starbucks Because They Are Poor: WINNER: Paulie Crush
Worst local bar slut : Ashley (find her sitting at BBQ bar trying to fuck your boyfriend) FYI tacky!
Worst Music Critic: Bao Le-Huu. Every time there is a spark in the local music scene, Bao manages to whip out his Vietnamese fire house and douse things. He referred to my friends as "Absolutely Brainless" a few months ago, and gave us the "Artistically Anemic" tag last month. He needs to get past the "B" page in his thesaurus of insults. And fuck him.
Worst wait staff. Tatame. Stop checking my bottle every two minutes. Once every 15 to 20 minutes is all you need.
JEN WHALEN- she is a dirty skank KASEY- for being a fucking bitch/asshole bartender from hell
worst bathrooms-firestone worst for encouraging scenester clones-bbq worst live music-central station worst/best dive-lou's lounge worst at opening on time-will's pub worst at reporting all the truth, and nothing but the truth-orlando sentinel
Worst Pedi Cabber -- Patrick "the Straight Edged Black Cowboy"
Worst local cam whore - RENEE STAGE - ASHTON VON - NO GIRL NEXT DOOR
Worst Jukebox- BBQ bar. PLEASE GET SOME NEW CD'S IN THERE. AND PLEASE DON'T LET PRESTON OR TYSON HAVE ANYTHING TO DO WITH WHAT GOES IN.
worst blow job - kim (dr dawes ex)
worst place to take a piss in public: anywhere in point Orlando
Worst fixed gear kid... has to be the red haired on with glasses and the bianche hat. Get a life fan boy.
Worst non downtown clubnight , Blue Martini's monday
Smelliest Kid In Orlando = ZACK "FUROCHE" FORTUNE
The kid who rides that double-welded bike. One day he's going to bust his ass and I will laugh. Again Reneee is indeed a whore, ive seen it with my own eyes. Fuck you downtown hipsters for making orlando such a shitty wannabe LA.
Worst Pedi Cabber- Alex Is Life. You would think biking around he would have lost some weight, not gained it...
Worst Cam Whore- Falon
worst excuse for a local "mag" - connections
Worst thing to happen to Downtown is the bike crew
Finnhenrys railings outside are not bolted down. STOP LEANING ON THAT SHIT, YOU FUCKING DOLTS. Every night I see some stammering jackass or some punch drunk bitch fall flat on their dullard asses because they think that a 30 pound railing can contend with the weight of their fat gelatanous asses. Stop chugging that sex on the beach, honey, it is clearly making your judgement that of the crackheads that hump the concrete for pennies.
The Defame: Orlando commenters who have only lived here for 6 months and spout off about this town like they actually know anything.
Goodbye my little haters. That took forever and was the dumbest fucking idea I ever had and I realized this once all your votes started pouring in. I think this is a good note to take a long awaited vacation from this blog on. And by vacation I mean I'd like to quit this thing for a few months if you don't mind.
Post away.
<3 Defame: Orlando